DMG Mori Co., Ltd.: DMG Mori is a worldwide leader of CNC cutting machine tools for turning and milling, as well as a comprehensive supplier in additive manufacturing.
---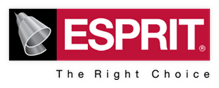 DP Technology: DP Technology is a leading supplier of Advanced Computer Aided Manufacturing (CAM) software, known as ESPRIT.
---

Machine Tool Technologies Research Foundation (MTTRF): MTTRF provides world  leading universities in the field of manufacturing advanced CNC machine tools for research and educational activities.
---

Sumitomo Electric Hardmetal Corp.: Sumitomo develops and manufactures advanced tool materials such as cemented carbide, CBN, and sintered diamond tools.